Guerrilla Marketing Ideas for Getting Traffic to Your Site
At the Mixergy PR panel, Brian Deagon of Investor's Business Daily said that if we want to learn about how to get traffic to our sites, we should talk to Michael Dorausch of Planet Chiropractic. So I did.
One of Michael's most effective techniques is to use Google trends to see what people are searching for. If he thinks a search term will continue to be popular, he'll write a news story about it for his site and relate the story to chiropractic so it's relevant to his users.
For example, before the Super Bowl, he discovered that people were hunting down information on where the game was going to be played, how they could find Super Bowl commercials online, etc. So he put together a page with all the details–including what chiropractic medicine means to football players. It became one of his biggest sources of traffic and revenue.
You can hear more of Michael's techniques for getting traffic in my interview with him. The sound quality is a bit off at times. Sorry. It's my first recorded interview. And thank you Michael for being so open about your methods.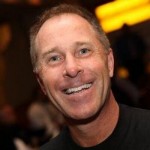 Michael Dorausch
Planet Chiropractic
Michael Dorausch is a Los Angeles-based chiropractor who founded Planet Chiropractor, an online community where chiropractors could gather and share information with one another.