Are you ready to
fast-track your success?
What if you could make every conversation
meaningful, interesting and useful?
Is it possible to:
grow your business
create a tribe of raving fans
get more customers
sell without being sleazy and
have better personal relationships
All from just mastering one skill?
Absolutely!
Hi, I'm Andrew Warner and most people know me from Mixergy, where the ambitious entrepreneurs learn from proven founders through interviews and courses.
I've done more than 1,100 interviews and 200 courses with entrepreneurs like Seth Godin (best selling author), Jimmy Wales (Wikipedia), Barbara Corcoran (Shark Tank), Tim Ferriss (4-Hour Workweek), Drew Houston (Dropbox), Jessica Livingston (Y Combinator) and more.
I'm going to share the biggest secret behind my success.
Learning to interview – regardless of the
setting – is a skill that will change your life.
You can start meaningful conversations with influential people you admire and high-profile guests, even if you don't have a track record, and even if nobody knows who you are.
I've been there and can show you how. Interviews have changed my life.
If you heard my interviews you know that I used to be socially awkward – and never know what to say. I hated being in situations where I had to carry on a conversation. And dating? That was another nightmare. But I knew that if I wanted to be successful, I had to get better at talking to people.
Interviews are a great way to start a business or grow an existing one.
They help you:
build an audience of raving fans that buy & share your work
connect with customers, investors and advisors
build your own credibility by "piggybacking" on the credibility of your guest
earn revenue through ads and other promotions
and 1000+ other benefits.
But most importantly they force you to spend time on market-facing activities.
One of the traits I admire in entrepreneurs is the ability to quickly go from idea to something tangible. Maybe it's a website, or an app or a business plan.
But too often businesses fail because they don't spend enough time on market-facing activities. The entrepreneur builds something great, but nobody ever uses it — nobody even sees it.
With one interview you can land a key client that gives you the revenue and connections you need to grow 10x this year.
With one interview you can create content that gets shared hundreds of times and attracts thousands of people to your website.
With one interview you can learn a key insight worth thousands of dollars (and get it absolutely free).
Interviews help turn businesses with potential into businesses with profit.
Learning to interview – regardless of the setting – is a skill that will change your life.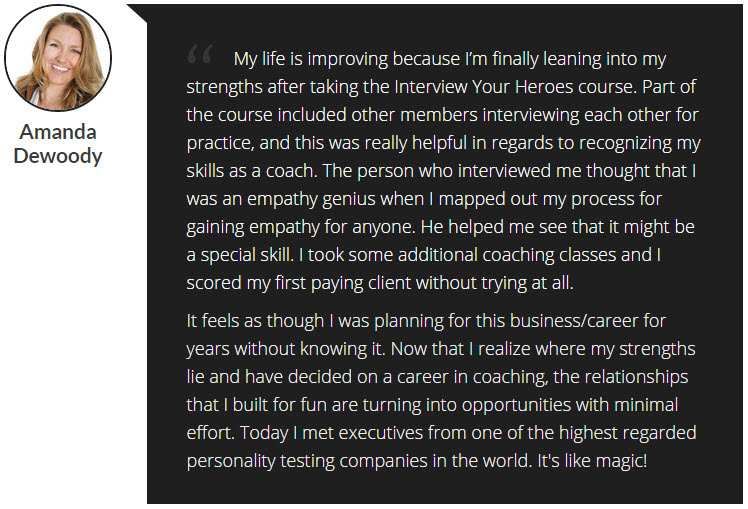 It's perfectly normal to be awkward when you start out.
When I first started interviewing I didn't have anyone helping me. I had to figure everything out myself. I don't want that for you.
I want to speed up the process for you to get started. Can I teach you what I've learned?
Introducing: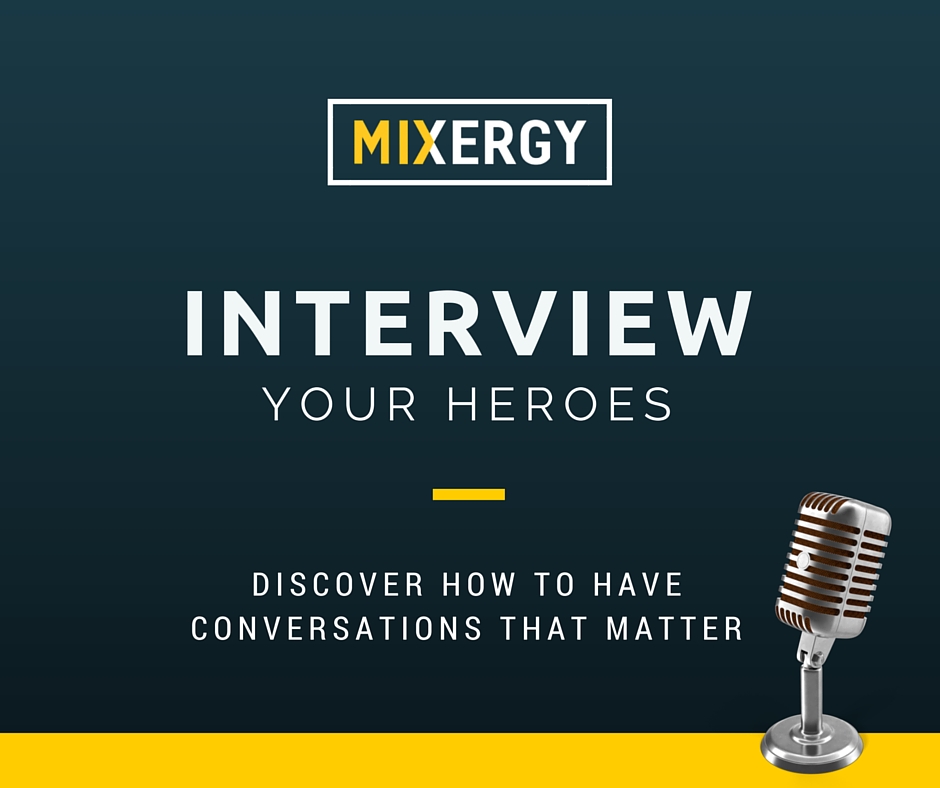 It's my step-by-step course, designed to help you master the skill of interviewing and create your own interview show. This is the information that I really wish I had when I was starting out. I could have had so much more success and done things so much faster. But I learned the hard way.
When I looked for books or courses or mentors to teach how to interview, there wasn't anything out there. I couldn't find a toolkit that included exactly what an interviewer need to get going – so I created this course for you.
Here's what's included:
Over 8 hours of video lessons, transcripts and bonus materials
The topics include:
1. Branding & Niching
2. Interviewing Tools You Need
3. Land Awe-Inspiring Guests
4. Getting Anyone to Open Up
5. Interviews as Traffic Magnets
6. Monetizing
What's in Each Module?
Module 1. Branding & Niching
What kind of site to start with
How to pick a topic
How to figure out which audience to target
The single most powerful page you'll create
How to ask nervy questions that make your work more valuable
Research that tells you what your audience is dying to know
Tools for creating lead-collecting landing pages
Module 2. Interviewing Tools You Need
How to easily setup a professional studio
What to use to record interviews from your computer
How to edit your interviews
How to post interviews on your site
How to turn your interviews into a podcast
Module 3. Land Awe-Inspiring Guests
Multiple ways to get interviewees
Ways to connect-with hard-to-reach guests
Exact emails to send potential guests
A system for finding and booking guests
Module 4. Getting Anyone to Open Up
How to lead a biographical interview
How to turn your interviews into courses
How to research an interviewee
What to do before the interview
How to get people to open up
What to say after the interview is done
Module 5. Interviews as Traffic Magnets
How to get guests to help you promote
How to get promotion from their "gang"
How to build a tribe around your interviews
How to create events
How to get your content on other sites
What to do to keep your audience
How to podcast your work
Module 6. Monetizing
Basic tools you need to sell
The first 2 things to put on your site
How to run ads if you hate selling ads
How to sell ads if you like selling
How to make & sell your own product
How to create a continuity product
How to monetize if interviewing isn't your main business
Not only will I teach you to interview… There's more.
I'll let you swipe my files.
The Golden Invitation Email
I'm going to give you my word-for-word email script and you have my permission to use it to book your interviews. This is the script that has landed tons of famous guests for Mixergy. No need to try out different styles to see what works. I'll show you exactly what I do.
The Black Book
The Black Book is my secret address book to find experts that are dying to be interviewed. Obviously, this does not contain the personal email addresses of everybody that has been on Mixergy but it is guaranteed help you find amazing guests.
Pre-Interview Process
One of my best kept secrets is that I pre-interview guests before we get together for our interview on Mixergy. I recorded one of those secret conversations with an interviewee. He gave me permission to give you a transcript of that conversation, along with my notes showing what I did at each step of the process.
Interview Questions
Use my go-to set of interview questions. They will help you get started and make your conversations flow easily.
Publishing Procedures
These step-by-step instructions show you the easiest possible way to take your interview from draft to published on itunes.
Promotional Scripts
This swipe file is a word for word script on how to get your guest to promote their interview for you.
Monetization Techniques
I'll show you the different ways you can monetize your interviews and turn this into a profitable business.
How to turn your interviews into a course
Use my outline to turn any series of interviews into a course. Have people you admire essentially write your courses and supplement your course content.
Private Community
Ask questions, interact with other students and get help moving forward in our private Facebook group.
6 Bonus Video Lessons (VIP ONLY)
In addition to the regular course lessons, you'll get an additional 6 bonus video lessons with me and other podcasting experts. We'll talk about finding your audience, interviewing, landing guests, and more.
Weekly Office Hours with Me (VIP ONLY)
Have a question about anything in the course? I'll be around to answer them live on weekly office hour calls. All you have to do is sign up, show up, and I'll answer your questions, or even role play in a conversation with you. I'm here to make sure you succeed.
I'll Be Your First Interview (VIP ONLY)
If you don't know who you'd interview or you're nervous about doing your first one, don't worry. For VIP students, I'll be your first interviewee. That way, you'll have your first interview to publish. Plus, I can help you out if you get nervous or run out of questions to ask. And even if you're not publishing the interview, this is a great way to get hands-on experience before you try your new skills on other people.
Conveniently access Interview Your Heroes on any device
Use your favorite device to access the content. It's all in the cloud, ready for you at any time. Laptop, tablet or phone – we've got you covered.
I'm committed to your success.
And, I'm so committed to helping you succeed, that I'm even offering a money-back guarantee. You get a full 60 days to try the program and if you're not happy for any reason at all, just show me your first two interviews, and ask for your money back. It's my way of making sure you're taken care of.
So if you're interested in learning how to have real conversations and interview people – now's the time to join.
---
OPTION #1
Interview Your Heroes VIP Edition
6 Bonus Video Lessons
I'll Be Your First Interview
Weekly Office Hours with Me
Interview Your Heroes Course
Mixergy Swipe Files
Facebook Community
$1197
(or 6 Payments of $249)

---
OPTION #2
Interview Your Heroes Standard Edition
6 Bonus Video Lessons
I'll Be Your First Interview
Weekly Office Hours with Me
Interview Your Heroes Course
Mixergy Swipe Files
Facebook Community
$697
(or 6 Payments of $149)

---
Check out what my alumni have said about Interview Your Heroes: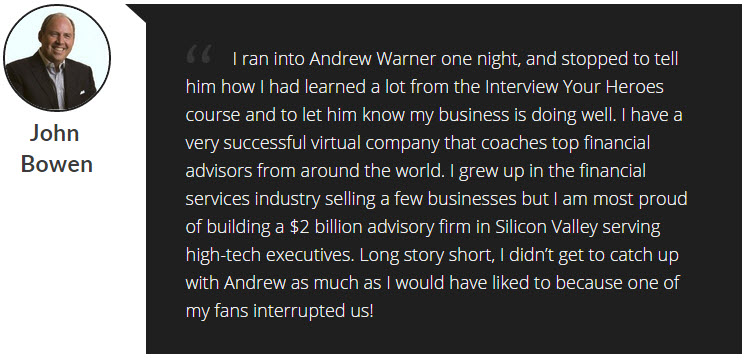 Is Interview Your Heroes Right for you?
I want to be extremely honest with you. This program isn't a good fit for everyone.
Actually, there are quite a few people who should not join this course
If you're not an action taker
If you want to be passive about life
If you don't want to be successful
If you don't have time to do it (need 2-3 hours a week)
What I can tell you is that the individuals that have taken this course, who followed through and did the work – have had some pretty impressive results. Of course, if you're not going to do the work, you're not going to get results.
Frequently Asked Questions
Can this material be used for podcasting?
Absolutely. We will even show you all the different software options for turning your interviews into podcasts and tell you which to pick and how to use it. You'll get all the resources you need to keep it simple. But don't limit yourself to just podcasting. We'll help you publish your interviews on YouTube, your blog, and other platforms.
---
Do I have to do an interview show?
Nope, a lot of people actually prefer to turn their interviews into courses. One student is turning his interviews into books with people he admires. Others have turned their interviews into blog posts. And some current students are just looking to learn from their heroes.
---
Is it okay if I use these tactics in my corporate job?
You should use these tactics in your corporate job. You'll be amazed at how the techniques you'll learn for getting reluctant interviewees to open up will help you get people you work with to start having conversations that lead to real bonding. If you sell, wait till you see how your sales grow when you become the best conversationalist your prospects ever met.
---
What if I just want to learn to be a better conversationalist?
You need to practice, right? Well every student of this interview course is encouraged to do practice interviews with other members. Sign up to help them by letting them do practice interviews with you and you'll get the experience you need.
---
English is my second language. I feel awkward interviewing in it.
Good. You should not be talking much in your interviews. It might be hard to be a great writer if English is your second language, but an interviewer just needs to have a set of questions to ask and let the other person do most of the talking. (If you're an interviewer who's talking so much that your language skills are a problem, then you're talking too much. Stop it. Let your interviewee do most of the talking.) This course will help you develop the questions you need ahead of time, so you're fully prepared.
Also, why limit yourself to doing your interviews in English? If you want, you can use the skills you develop from this course to do non-English interviews.
---
What if there are already other interview shows and podcasts on my topic?
If you walk into a bookstore and look on the shelves, you'll see loads of of books on any topic, each by a different author. Each of us are unique, and bring our own set of experiences into what we teach. No one but you can see life through your eyes. The same is true in the app store where there is more than one app on any topic. Embrace the fact that there are other people in the same space, and be aware of what makes you special. Keep your focus on doing great interviews and finding people who you admire and bring them on so that your show keeps evolving and changing.
---
What if I post my interview and no one sees it?
My goal for you is to do an interview that is so good that the person you interview will respect your skills and be glad to know you. If you master that, the whole course will have been worth it.
But don't worry, you'll learn how to get a much bigger audience. You'll learn how to ask each of your interviewees to help promote your course. (You'll even get a word-for-word script to use.) And you'll learn how to get people who care about your interviewees (their friends, colleagues, investors, etc) to help you promote the interviews.
Plus, over time, each of your interviews will grow its traffic. The Mixergy interview with the founder of Lynda.com didn't get much traffic when it was first published. But over time, as that company grew, more and more people Googled that company and found the interview and watched it.
---
What if I already have a business?
If you already have a business, you might have noticed that content marketing is one of the best ways to get more users and customers. The problem with content marketing is it forces you to try to write something brilliant every day. Do that for a few months and you'll either burn out or you'll look like a know-it-all imposter. That's why interviews are so powerful. YOU don't have to be brilliant all the time. You just need to interview the right people and let them be brilliant.
The ideas you uncover in your interviews can be turned into a video show and/or an audio podcast and/or text-based excerpts and/or an interview transcript. Each of those options can help you grow your traffic.
---
Here are some more success stories from Interview Your Heroes alumni.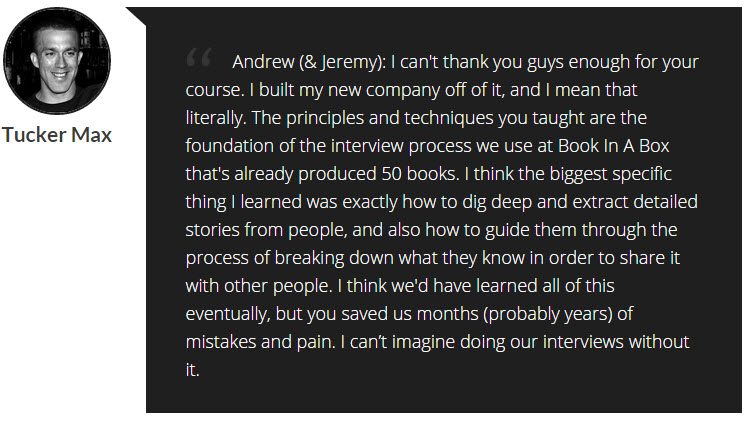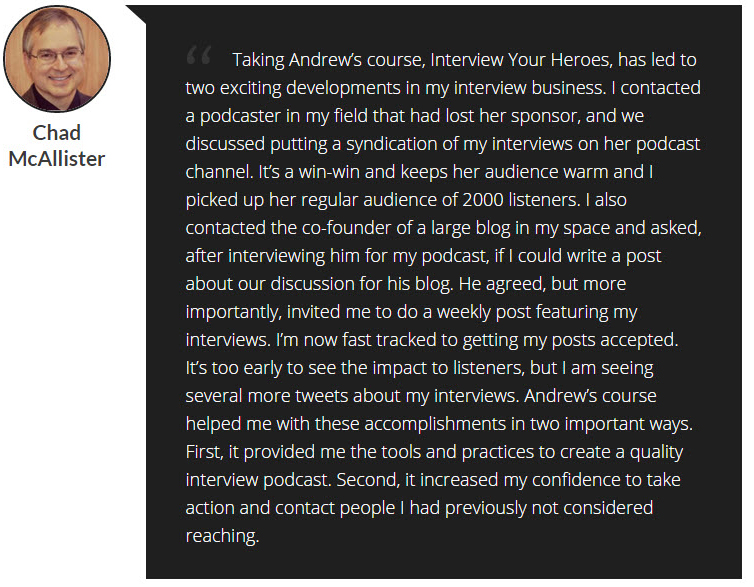 I can't make the decision for you. You have to take the first step.
Learning to interview – regardless of the setting – is a skill that will change your life.
---
OPTION #1
Interview Your Heroes VIP Edition
6 Bonus Video Lessons
I'll Be Your First Interview
Weekly Office Hours with Me
Interview Your Heroes Course
Mixergy Swipe Files
Facebook Community
$1197
(or 6 Payments of $249)

---
OPTION #2
Interview Your Heroes Standard Edition
6 Bonus Video Lessons
I'll Be Your First Interview
Weekly Office Hours with Me
Interview Your Heroes Course
Mixergy Swipe Files
Facebook Community
$697
(or 6 Payments of $149)

---
I'd like to invite you to personally join me as I teach you how to Interview Your heroes.

Andrew Warner
Founder, Mixergy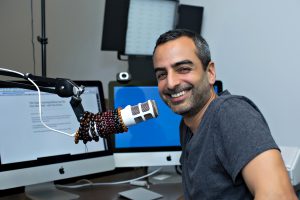 © Copyright 2016 Mixergy