Raise your VC money with persuasive pitching – Live Master Class (Free!)
FREE Live Master Class:
Get the Method That's Raised $400 Million
(and Counting) in Capital
What if you could take the fear and guesswork out of pitching and follow a proven, sytematic framework developed over 15 years of experience, 10,000 hours of research, and backed by results that prove it works?
Now, for the first time, Oren Klaff describes his formula to help you deliver a winning pitch in any business situation.
Whether you're selling ideas to investors, pitching a client for new business, or even negotiating for a higher salary, Oren's system will transform the way you position your ideas.
In this session Oren will dig deep into his STRONG method of pitching, touching on:
Setting the Frame
Telling the Story
Revealing the Intrigue
Offering the Prize
Nailing the Hookpoint
Getting a Decision
This session can mean the difference between taking your business to new heights — or just going about boring business as usual.
Get started right now
For my next Master Class, I've invited pitchman, gunslinger, and entrepreneur Oren Klaff, Director of Capital Markets for investment bank Intersection Capital, co-developer of Velocity, and author of the book thats changing the game on business pitching and winning deals — Pitch Anything: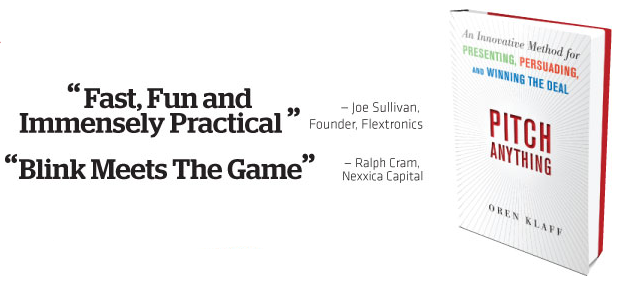 Top performers love his approach:
"Move over Neil Strauss and game theory. Pitch Anything reveals the next big thing in social dynamics: game for business." —JOSH WHITFORD, Founder, Echelon Media
"What do supermodels and venture capitalists have in common? They hear hundreds of pitches a year. Pitch Anything makes sure you get the nod (or wink) you deserve." —RALPH CRAM, Investor
"Pitch Anything offers a new method that will differentiate you from the rest of the pack." —JASON JONES, Senior Vice President, Jones Lang LaSalle
"If you want to pitch a product, raise money, or close a deal, read Pitch Anything and put its principles to work." —STEVEN WALDMAN, Principal and Founder, Spectrum Capital
"Pitch Anything opened my eyes to what I had been missing in my presentations and business interactions." —LOUIE UCCIFERRI, President, Regent Capital Group
"I use Oren's unique strategies to sell deals, raise money, and handle tough situations." —TAYLOR GARRETT, Vice President, White Cap
"A counter-intuitive method that works." —JAY GOYAL, CEO, SumOpti
What You Get
Master Class students pay $39 for the session, including the recording, notes, and supplemental materials. But you can attend the live session FREE. It is LIVE, so you'll be able to ask Oren specific questions. Note: You will only get access to the live session (no notes or recording).
When is it?
Thursday, August 11th at 3:30PM EST.
How to Get Access
All you have to do to get Oren's system is click here to send out a tweet.
What will I tweet?
This phrase: "Just got my spot for free master class with Oren Klaff (@pitchanything) on Raising Capital for my Startup – via @mixergy – join me: mixergy.com"
What happens after I tweet?
You'll be taken to the private master class registration page.
Cool. I'm ready to sign up, what's next?
Ready to win more deals and join this free master class? Tweet For Access.
Talk soon,
Andrew