How We're Making Cheat Sheets Better for You (What Do You Think?)
By April Dykman
We want to make Mixergy's new Cheat Sheets even more useful for you, so we asked Nick O'Neill, founder of StartupStats, for his advice. Today we're sharing his tips so you can see what we learned.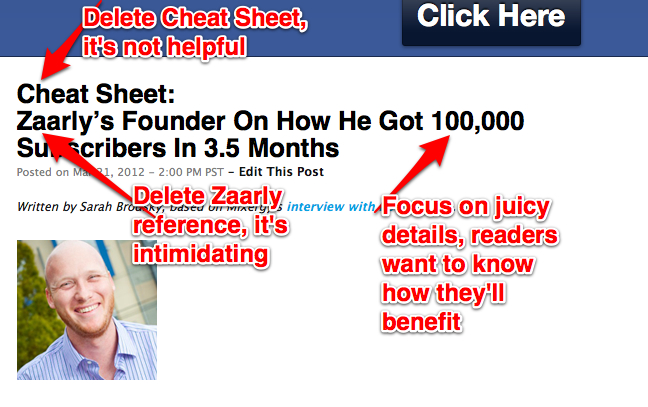 "You need to improve your titles," he says. Here are his suggestions on how to do it:
Use fewer words. "I'm not sure having 'Cheat Sheet' at the beginning of the title helps at all," says Nick.
Make it accessible. "Because you have 'Zaarly' in the title, I instantly think, 'Oh, it's Zaarly, of course they can do it. I'm not them, though.'"
Just provide the juicy details. "Here's the key: what matters is what your title claims to provide. If you can back that up with quality content, readers won't be frustrated." Nick suggested a few alternate titles for this post, such as:

7 Steps To 100,000 Users In 3.5 Months

This Guy Got 100,000 Users And $1.5 Million In A Few Months, Here's How…

WARNING: These 7 Secret Marketing Tactics Will Possibly Crash Your Servers
Tip: Nick likes using the number 7 in his titles. "I don't like 5, so I used 7 because I've found it tends to perform better," he says.
What do you think about Nick's advice? How can we make the Cheat Sheets more useful for you?