BUILD YOUR STARTUP BIGGER, BETTER, FASTER
Learn from the world's most successful entrepreneurs AND accelerate your success with Mixergy Premium
It's just $399/year for the annual membership, and that price is locked in for life.
"Mixergy is a consistent favorite–their in-depth interviews and high production episodes always leave you satisfied and excited for more, not wishing there was something better."–Inc.'s 15 Best Podcasts for Entrepreneurs
THINK ABOUT YOUR #1 BUSINESS PROBLEM…
Maybe you're out there on your own…
Struggling with getting traffic….or boosting conversions…
Now imagine that instead of buying a $3,000, multi-module course that takes 10 weeks to complete…
Or Googling "how to get traffic"…
Or spinning your wheels and making zero progress month after month…
You just do a quick search…
And you immediately have a step-by-step solution from one of the top entrepreneurs in the world…
What would it be like, to have that PROVEN plan, always at your fingertips?
HI, I'M ANDREW WARNER, FOUNDER OF MIXERGY.
I started Mixergy 10 years ago because I know that building a startup is hard.
And I know that going it alone is almost impossible.
Sure, maybe you can do it.
But you'll probably waste a lot of time and money doing the wrong things.
For instance, in the early days of Mixergy, I got distracted and lost hundreds of thousands of dollars.
And that happened even though my last startup was making over $1 million a month before I sold it.
Maybe some of this sounds familiar…
Feeling alone, like no one in your social circle "gets" your entrepreneurial goals…
Feeling out of control, like you're on a cash flow rollercoaster…
Avoiding the things you don't know how to do…
Trying to do content marketing, but traffic stays flat…
Feeling frozen by your fear of pitching, even though you need sales…
Your site getting no love from Google, no matter which SEO "ninja" tricks you try…
Constantly feeling distracted, like you're spinning your wheels…
Everyone gets stumped at some point, whether it's your first business or your 5th.
However, when you can learn directly from top performers, you're not alone anymore…
You can learn from their mistakes, saving you considerable time, money, and frustration.
You can build your startup better and faster, by avoiding pitfalls and taking advantage of their best tactics.
And you'll be inspired by them, motivated to reach that next level. Now. Today.
Think about this: How long have you been trying to get to that next level?
One month? One year? Three years?
Meanwhile, other people are launching and getting funding…
They're splashed all over the front page of TechCrunch.
Who are they? How did they do it? What do they know that you don't?
When you're a Mixergy Premium member, you'll find out.
You don't have to be BFFs with big names like Neil Patel, Tim Ferriss, and Derek Halpern–I bring them to Mixergy and they give you their step-by-step playbook.
It's just $399/year for the annual membership right now, and that price is locked in for life. You'll save 32% off the monthly option.
HERE'S WHAT YOU GET WITH MIXERGY PREMIUM…
#1: START TO THINK LIKE A TOP PERFORMER
Every week we bring you the most profitable ideas, the stuff that founders like Tim Ferriss, Barbara Corcoran, and Gary Vaynerchuk are doing in their own businesses…
And only Mixergy Premium members get access to the entire library.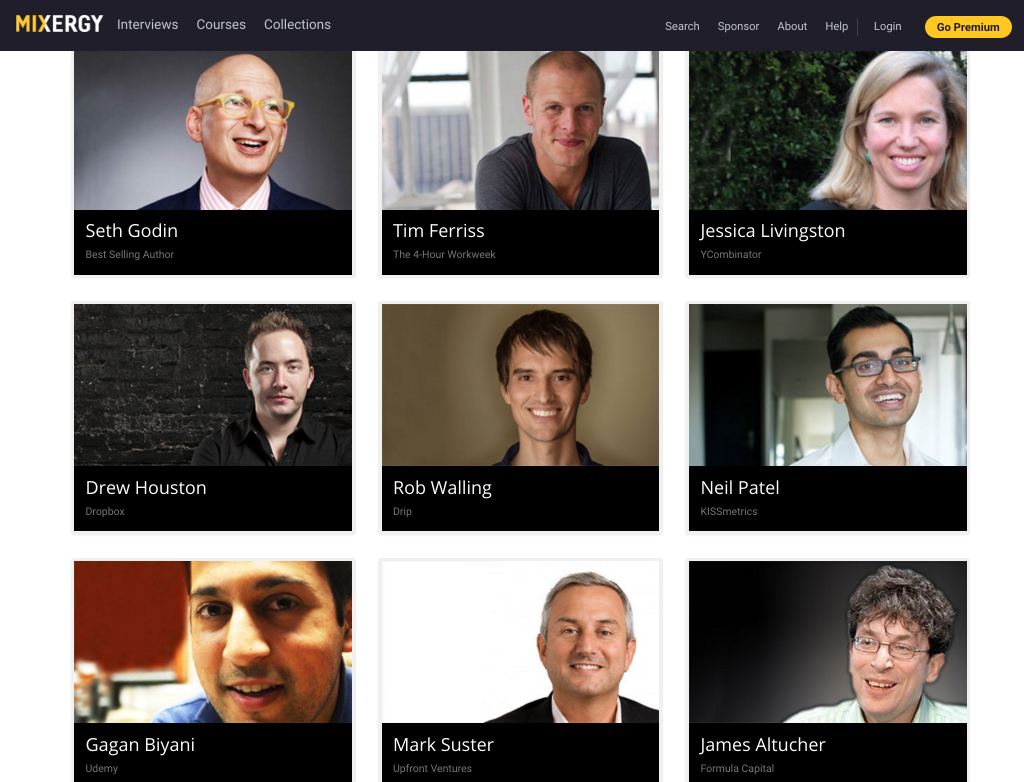 That's more than 1,000 interviews with industry giants in SAAS, service companies, ecommerce, and physical products large and small.
It's the ultimate reference guide for starting and growing a business.
And unlike all of the other interview sites and free podcasts, after 10 years of interviewing, I know how to get people to really open up.
And if a founder isn't willing to reveal numbers and specifics, I don't publish their interview.
That means you'll hear about their mindset hacks, early failures, how they conquered their personal demons, and how they launched and grew their business, so that you can do the same.
#2: TAKE ACTION LIKE YOUR HEROES IN THE STARTUP WORLD
Mixergy Premium also includes members-only courses–proven, step-by-step solutions for a specific startup challenge.
Taught by expert founders, you'll learn how to:
Get more profitable ideas for your startup with Cindy Alvarez of KISSmetrics…
Get more leads from Derek Halpern, who got 10,000 leads in just three months…
Skyrocket your traffic, even if you're bootstrapping, with traffic expert Neil Patel, founder of Crazy Egg & KISSmetrics…
Ditch cold calling and write emails that get a 90% response rate, taught by Bryan Kreuzberger of Breakthrough Email…
…and 155 more courses that cover every stage of your startup!
Our team puts in 11 hours to help the expert founder teach you only the most actionable stuff.
So rather than giving you a 10-week multi-module course that you may or may not finish, in just 45 minutes, you'll know what to do.
We're committed to getting you UNstuck, so you can take action right away.
#3: A STARTUP REFERENCE LIBRARY AT YOUR FINGERTIPS
With more than 1,000 interviews and more than 155 courses, a Mixergy Premium membership is like having a startup reference library. You'll be able to:
Instantly find interviews and courses by 'business type,' such as SAAS, ecommerce, B2B, B2C, brick and mortar, and more…
Quickly find anything you're looking for with a search by keyword, topic, company, or founder name…
Follow a curated "path" of interviews and courses, based on your #1 goal, like "get more traffic" or "generate sales"…
…and much more!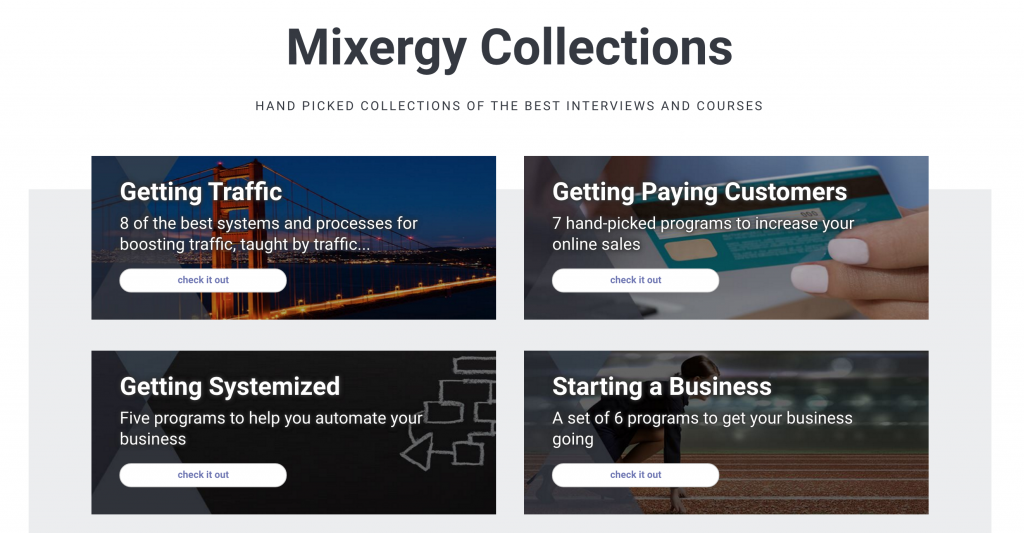 Any time you're stumped, wondering how others did it, or unsure of your next move, you're just a quick search away from proven solutions.
#4: ACCELERATE YOUR GROWTH WITH LIKE-MINDED MEMBERS
Want to join a mastermind or connect with other entrepreneurs?
The Mixergy Dojo will help you find those people and form those groups.
It's for people who are willing to put in the work, though, which is why only Mixergy Premium members can join.
To make sure groups stay productive, I even hired a Dojo leader. His entire job at Mixergy is to help form these masterminds and keep them on track.
Dojo is included with your Premium membership. And it's a pretty amazing deal, considering the $35,000 masterminds out there that don't even include the huge library of content that comes with a Mixergy Premium membership.
WHAT PREMIUM MEMBERS SAY:
"I get access to the lessons and experiences of over 1,000 entrepreneurs. It's a no brainer."–Ryan Cote, Premium member and founder of WPamplify and Sidepreneurial
"I've nearly doubled my revenue the past year applying snippets of tools and tactics revealed within these interviews and courses."–Patrick Hitches, entrepreneur, nutrition coach and adventure addict
"I've been able to grow my brand New Stitch a Day to more than 26,000 email subscribers, 67,000 YouTube subscribers, and a six figure income because of the things I've learned through Mixergy interviews and courses."–Johnny Vasquez
"[Before Mixergy] I didn't have an entrepreneur community. I didn't know anybody in the market, I didn't know anything about recruiting. I've learned so much from Mixergy that I've started to help other smaller businesses around me, whether it's in China or the United States."–Derek Capo, founder of Next Step China
"I was able to build my content writing business, Writocity.com, bigger than I ever thought possible in such a short period of time. The Mixergy interviews and courses helped me overcome obstacles which propelled myself and my business to new heights. Thanks!"–Kevin Brown
"I learned enough from the John Warrillow interview (about how to build a sellable business) that my business is running in large part without me–and I'm confident I can sell it within the next 2 years for 4x or 5x revenue. Thank YOU Andrew, for all that you do!"–Jay Webb
And you know what? I don't even want you to take their word for it. Or mine.
Instead, I want you to check out Mixergy Premium for yourself…
THE RISK-FREE, MONEY BACK GUARANTEE
I want to make it a no-brainer for you to check out Mixergy Premium for yourself, so this is the easiest, most risk-free guarantee possible: If you aren't 100% in love with Mixergy Premium, I will gladly refund your money.
If these vetted top performers and highly researched courses don't help you get the results you're after, just email us and we'll issue a prompt and courteous refund.
No hoops to jump through, nothing else you have to do. It's that simple.
It's just $399/year for the annual membership right now, and that price is locked in for life. You'll save 32% off the monthly option.
Hey, are you still reading? ;-)
If so, here's the deal: I want to help you kick ass this year, next year, and beyond.
I want you to double or triple your revenue.
To become so successful that you have a whole NEW set of problems.
So successful that I get to interview you on Mixergy.
However, it's up to you to take the first step, right here.
-Andrew
Founder, Mixergy
PS. NOT SURE IF MIXERGY PREMIUM IS RIGHT FOR YOU?
Think about it this way: How long have you been wanting to get to that next level? One year? Five? Even longer? Ouch.
Meanwhile, other people are launching and getting funding and are splashed all over the front page of TechCrunch. Who are they? How did they do it? What do they know that you don't?
When you're a Mixergy Premium member, you'll find out.
So here's the thing to ask yourself right now…
How much longer do you want to keep getting the same results you've been getting?
Only you can answer that. If you're ready to shake things up and gain momentum, I want to help. But YOU have to make the choice–and you can take the first step right now.
It's just $399/year for the annual membership right now, and that price is locked in for life. You'll save 32% off the monthly option.
>>FREQUENTLY ASKED QUESTIONS<<